E-Commerce Puts Once-Troubled China Railway Bonds on Track
Alibaba-led online shopping boom raises transportation volume

'It boils down to the boom of the new economy,' Invesco says
Railway bonds in China, rocked by crashes and corruption probes five years ago, are among the best performing local corporate notes in 2016 as investors bet on support from a government seeking to develop a high-technology, service economy.
Debt of transport companies including China Railway Corp. gained 4.2 percent this year, the most among 11 industries in a Bank of America Merrill Lynch index. Energy notes returned 3.9 percent and utilities ranked third with 3.6 percent. Property bonds were little changed, the worst performance, amid concern the government is tempering a real-estate bubble.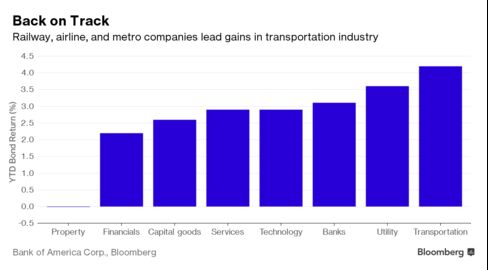 While the rally in transport bonds has been helped by central bank monetary easing, investors are taking comfort in President Xi Jinping's support for an industry at the intersection of services, consumer spending and Internet commerce. Alibaba Group Holding Ltd., China's largest online retailer, saw its revenues surge 47 percent in the quarter ended June 30 from a year earlier as it pushed into rural markets.
"It boils down to the boom of the new economy in China," said Ken Hu, chief investment officer of Asia fixed income at Invesco Hong Kong Ltd. "The old way of shopping such as going to department stores is being overtaken by e-commerce and this has led to a surge in transportation volumes."
Transport Gainers
The yield on China Railway's 10-year bonds fell 83 basis points in the past year to 3.46 percent, sending the premium over similar-maturity government securities down 27 basis points to 69. The gap reached as wide as 180 basis points in 2013, when China's cabinet arranged for the state-owned company to take over commercial operations from former Ministry of Railways, raising concern over its level of government backing.The break-up followed the firing of the previous rail minister in 2011 amid allegations of corruption and a high-speed crash that killed 40 people.
"Bonds issued by China Railway now have explicit support from the government," said Angus To, a senior research analyst of ICBC International in Hong Kong. "The outperformance may be due to market appetite for safe assets which provide higher yields relative to government bonds in an environment of falling yields."
Hainan Airlines Co. and Changsha Metro Group Co. were among other transport gainers. The yield on Changsha Metro's December 2025 notes has slid 65 basis points this year to 3.5 percent, and returned 6.3 percent, compared with an average 3.3 percent gain in Bank of America's China corporate bond index.
Infrastructure Boost
State-run China Railway's bonds are also benefiting from haven demand after a series of defaults, according to ICBC's To. Recent local failures have included Sichuan Coal Industry Group, which missed payment on 1 billion yuan of notes in June, and Inner Mongolia Nailun Group Inc., a fertilizer producer and a property developer, which didn't repay 800 million yuan of bonds in May.
Alibaba reported better-than-expected net profit last quarter, while rival Tencent Holdings Ltd. registered a 47 percent climb in net income.
The government is stepping up capital spending on roads, rails, airports. Transportation bonds have more room to advance as long as liquidity conditions remain supportive for the overall debt market, according to BOC International Holdings Ltd.
"Policy support is very strong for the transportation sector with more subways, highways and new airports under construction," said Steve Wang, Hong Kong-based head of fixed income research at BOC. "Consumers are continuously evolving and transportation is a sector that can benefit for long from the rise of the new economy."