Alibaba Teams Up With UPS, FedEx To Reduce Shipping Costs For Chinese Exporters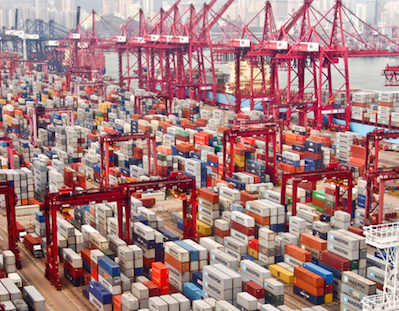 Chinese e-commerce giant Alibaba is teaming up with major logistics and transportation companies including UPS, FedEx, Maersk and DHL to drive down the cost of overseas shipping faced by smaller Chinese exporters, the company said today.
High logistics costs have long been a major barrier to cross-border trade for China's small and medium enterprises. Shipping expenses account for 30% to 40% of the overall product cost in China, compared with 15% to 25% in developing countries, and 10% to 15% in developed countries, according to the China Federation of Logistics & Purchasing.
Over the last seven months, Alibaba Group's international B2B site has announced partnerships with UPS and FedEx for express delivery, Maersk for container shipments, and DHL and Kuehne + Nagel for airfreight to boost cross-border logistics options available online through Alibaba.com.
Currently there are more than 100 logistics companies and 1,700 freight forwarders offering their services through Alibaba.com, which has an international membership base predominantly made up of Chinese manufacturers and suppliers selling globally.
Alibaba.com is beefing up the platform "to provide optimal, one-stop, door-to-door logistics solutions that connect China and the world," said Steve Su, Alibaba.com senior logistics expert. "We're offering digital solutions that streamline and simplify the process, cut costs, and enable small- and medium-sized exporters to enjoy same service and price as big exporters do."
In December, Alibaba.com began allowing exporters to reserve space on Maersk container ships through the e-commerce site's OneTouch service. OneTouch is offering online booking on select routes between five Chinese ports and eight overseas destination ports.
The Maersk tie-up helps to ease several challenges, such as unpredictable costs and booking cancellations, faced by small exporters when shipping on ocean vessels. Container companies typically prefer dealing with high-volume businesses, but Alibaba.com, which has around 150,000 members, effectively consolidates a large number of potential customers.
"As a platform, Alibaba is able to integrate small exporters and their demands, thus helping them secure more resources when talking with shipping lines," Su added.
By digitizing the shipping process, pricing is more transparent, goods can be tracked online, and small exporters have access to data such as routing information. Payments can be settled electronically within the system, and logistics companies also have access to exporters' payment histories and other information provided by Alibaba to help determine creditworthiness.
In January, Alibaba.com announced a cooperation agreement that will integrate members of the world's largest logistics network, WCA Ltd., with the Alibaba platform. WCA will vet and approve international logistics providers and freight forwarders for Alibaba.com customers.
The WCA network, comprised of 6,000 offices in 189 countries, helps smaller freight forwarders compete for global business. Approved WCA forwarders now have access to Alibaba's sellers, opening up business opportunities with exporters that might ordinarily be out of their reach. The collaboration currently offers shipments generated by Alibaba.com's members to the U.S., India and the U.K.