China's Exports Remained Resilient as Global Demand Recovers
Bloomberg News
China's overseas shipments held up in April amid recovering global demand and as the threat of a trade war with the U.S. dissipated.
Key Points
Exports rose 8 percent in dollar terms from a year earlier, less than the 11.3 percent increase economists projected in Bloomberg survey
Imports increased 11.9 percent, compared with an estimate for 18 percent growth
Trade surplus widened to $38.05 billion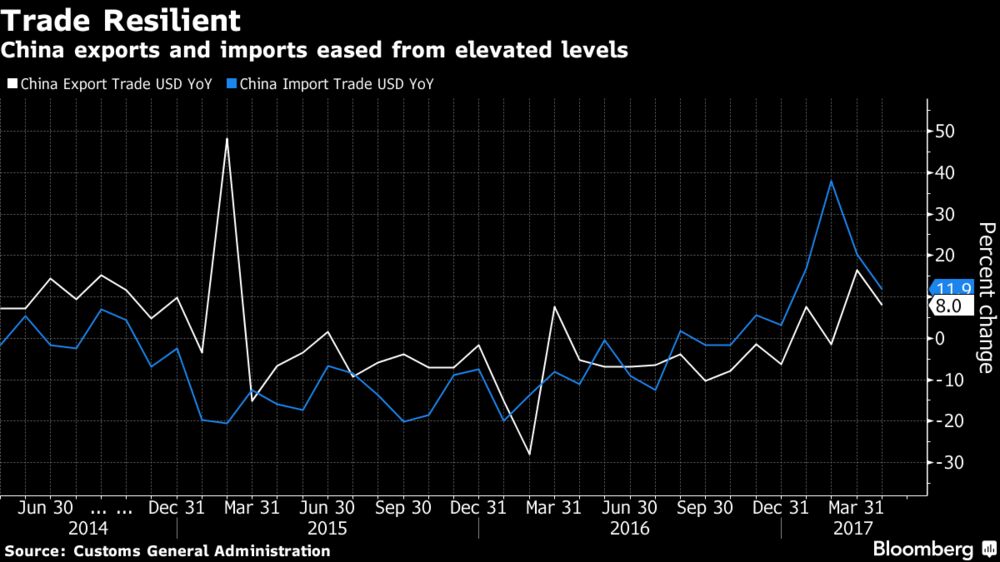 Big Picture
China's export outlook has improved on recovering global demand and as the threat of a trade war with its biggest trading partner fizzled. The International Monetary Fund
boosted
its estimate of global growth this year, brightening the outlook for external demand. Still, both exports and imports missed economists' estimates, adding to recent evidence that growth may be pulling back after a strong first quarter.
Economist Takeaways
"The latest numbers are consistent with signs of a slowdown from April business surveys," Bloomberg Intelligence economists Tom Orlik and Fielding Chen wrote in a
report
. "If the peak for 2017 growth is already in the past, China's space for progress on a challenging deleveraging agenda will be limited. Diminished scope for higher interest rates will also add pressure for yuan weakness."
"The current global demand recovery is fragile and remains susceptible to setbacks," Louis Kuijs, head of Asia economics at Oxford Economics in Hong Kong, wrote in a note. "We expect China's import growth to continue to ease on slower real estate activity momentum and less accommodative macro policy in China."
"Growth in exports shows robust global demand," said Xia Le, a Hong Kong-based economist at Banco Bilbao Vizcaya Argentaria SA. "China's financial deleveraging has just started, and will weigh on the domestic economy. Imports will reflect that trend first."
"The broader context for China's export stabilization is the recovery of global economy," said Tommy Xie, an economist at OCBC Bank in Singapore. "China's own economy is also off a good start in the first quarter and the momentum seems to have carried onto April."
The Details
Shipments to the U.S. climbed 11.7 percent, easing from a 19.7 percent gain in March
Exports to the European Union increased 4 percent, the customs agency said Monday
Crude Imports slipped from a record to equivalent of 8.4 million barrels per day
Coal imports climbed to the highest in four months
Imports of refined copper plunged to the lowest level since October
— With assistance by Miao Han, Xiaoqing Pi, and Kevin Hamlin