Economic Takeaways of U.S. Consumer Sentiment, Factory Output
University of Michigan gauge of confidence rose in October

Fed reports second straight decline in factory production
What you need to know about Friday's U.S. economic data:
CONSUMER SENTIMENT (OCTOBER)
University of Michigan's preliminary gauge rose to 92.1, exceeding median forecast and first advance in four months, from 87.2
5- to 10-year inflation expectations dropped to 2.6 percent, matching the lowest since 2002
Consumer expectations index rose most since January, views of current conditions also improved to three-month high
Gauge of buying plans for household durable goods highest since 2007
The Takeaway: Consumers seem to be shaking off U.S. growth worries fueled by stock-market turmoil and softening foreign economies, instead turning their attention to prospects for income growth as the labor market continues to tighten. Households' expectations for personal finances improved to their highest level since 2007, and some 48 percent of respondents projected good times for the economy over the next five years, up from 41 percent in September. Meanwhile, subdued inflation and borrowing costs are green lights for Americans planning to buy big-ticket goods such as cars and appliances. What's more, consumers also showed a greater willingness to use credit or their savings for such purchases.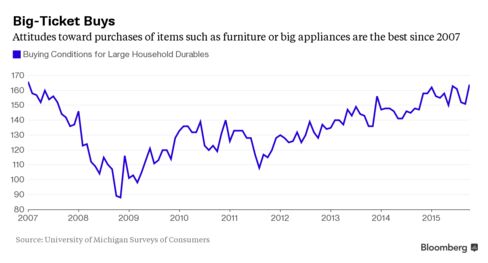 INDUSTRIAL PRODUCTION (SEPTEMBER)
Factory output fell 0.1 percent, the third decline in the last four months
Production at manufacturers, mines and utilities dropped 0.2 percent
Output of motor vehicles/parts climbed along with consumer goods, while production of business equipment and construction materials decreased
The Takeaway: Bloated inventories, which rose in the first half of 2015 by the most on record, a stronger dollar and weaker overseas economies are hindering factories. Auto-making is one of the few bright spots for the nation's producers. Output of cars and parts is up an annualized 7.1 percent this year, while production of everything else is down 0.1 percent, according to Morgan Stanley. September industrial production was helped by warmer weather, which encouraged more electricity use. Mining remains hamstrung by weakness in the U.S. oil fields, with drilling of wells down another 4 percent from August and a whopping 56 percent from a year earlier.
JOB OPENINGS (AUGUST)
Fell to 5.37 million, second only to July's all-time high of 5.67 million
Number of people voluntarily leaving their job was little changed at 2.74 million
About 1.5 unemployed Americans vying for each job opening, down from 1.8 leading up to the last recession
The Takeaway: The figures underscore a tight labor market, which softened a bit as companies assessed the impact of weaker global demand on their business. Vacancies remain high relative to the recent slowdown in payrolls, according to Ian Shepherdson of Pantheon Macroeconomics, a development he says can be explained by businesses having trouble finding qualified help.