China economic growth slowest in 25 years
China's economy grew by 6.9% in 2015, compared with 7.3% a year earlier, marking its slowest growth in a quarter of a century.
Annual growth in the world's second-largest economy was in line with global expectations.
Beijing, meanwhile, had set an official growth target of "about 7%" for 2015.
However, Premier Li Keqiang has said a slower growth rate would be acceptable, as long as enough new jobs were created.
Analysts, on the other hand, have said any growth numbers below 6.8% would be likely to fuel calls for further stimulus.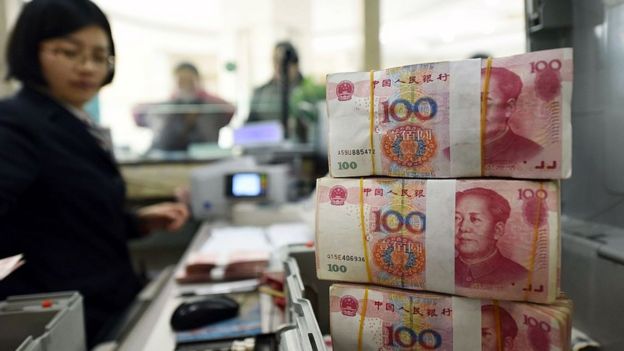 As its economic expansion continues to slow, China has been attempting to move towards an economy led by consumption and services, rather than one driven by exports and investment.
However, ongoing growth worries have prompted the country's central bank to cut interest rates six times since November 2014.
Recent falls on Chinese equity markets
have also created panic on global markets about the mainland's economic strength - a major driver of global growth.
"Given movements in the stock market, I expect we are likely to get a rate cut at any time ahead of Chinese New Year [8 February] regardless," said Eamonn Sheridan, Forexlive's chief Asia-Pacific currency analyst.
Other numbers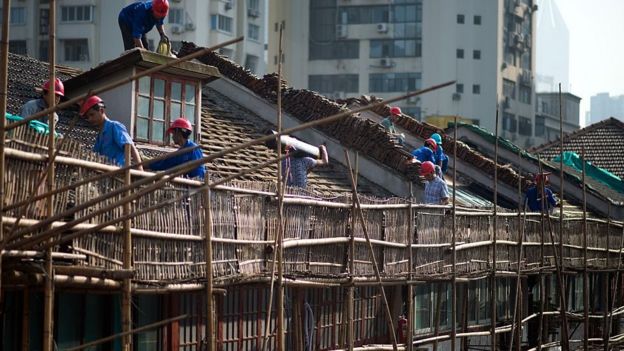 Monthly industrial production (IP) and retail sales numbers for China were also released on Tuesday, and came in worse than expected.
IP numbers - or factory output - expanded 5.9% in December, down from 6% in November. Retail sales grew 11.1%, down from 11.3% in November.
In some brighter news, however, figures released on Monday showed property prices rose 1.6% in December from a year earlier.
The country's housing market accounts for about 15% of the economy and the December numbers mark the third consecutive month of year-on-year gains.
Last week, official numbers showed exports
beating expectations
in December to rise 2.3% from a year ago in yuan-denominated terms.
Forecasts were predicting a 4.1% fall in exports, but a weakening currency may have boosted the lagging sector.
Imports also beat expectations in yuan-denominated terms to only fall 4%, compared with forecasts of a 7.9% slump.
The jump in exports was the first rise since June last year as the sector has been battered by slowing demand and slumping commodity prices.