Amazon does what no other retailer does--exploits its supply chain as advantage to drive customer experience.
Amazon - The Most Audacious Logistics Plan in History?
Secretly Building Out Global Supply Chain by Amazon in Project Named "Dragon Boat

"
Keeping up with Amazon.com's many moves in eCommerce and eFulfillment is almost a full time job, and as I have written before, whether Amazon is a friend, a foe, or something in-between for your business, we should all take our hats off to its incredible pace of innovation, much of it in the boring old logistics space.
But none of Amazon's many moves has topped the news Bloomberg broke last week on Amazon's plans for an end-to-end global logistics and delivery capability. More on that in just a moment.
Let's start to put some pieces together.
Gilmore Says....

Amazon will partner with third-party carriers to build the global enterprise and then gradually squeeze them out once the business reaches sufficient volume and Amazon learns enough to run it on its own, Bloomberg reports.

What do you say?

Click here to send us your comments
Our Expert columnist Marc Wulfraat of consulting firm MWPVL International has developed a niche of being perhaps the industry's foremost observer of Amazon when it comes to its supply chain strategies.

In a recent column for SCDigest, he noted that Amazon quietly rolled out no less than 43 smaller urban distribution facilities (Prime Now hubs and Fresh Delivery stations) in the US last year, with the goal to enable delivery to a customer's doorstep in 60 minutes or less. It also opened up four university bookstores and entered into the world of retail brick and mortar.

"Rest assured that this is just the tip of the iceberg, as the company is only getting started on its national quick response assault," Wulfraat says. "Amazon's main weakness is that it doesn't have any stores for people to shop at but they are quickly working on eliminating this barrier."

Wulfraat added that he believes that "If you thought that Amazon was a game changer in 2015, hold onto your hat. The company has built an impenetrable moat that cannot be replicated by any other company."

For example, he estimates that Amazon will open an incredible 7.2 million square feet of new fulfillment center space in the US in the next two years, an investment of some $1.2 billion in fulfillment space alone.
In late 2015, Amazon was reported to be in talks to lease 20 cargo jets from Boeing. It is also widely assumed Amazon is behind the daily air cargo flights being flown out of the air park in Wilmington, OH, a wonderful facility that once served as DHL's US hub before it shut down US domestic service, and before that for Airborne Express before it was acquired by DHL.

That "test" started with two daily flights, and has now expanded to five. The company behind the flights is also asking the third-party carrier Air Transport Services Group if service could be expanded to flights to Europe and China - and was told Yes.

Just a couple of weeks ago, Amazon opted to purchase the 75% of French package delivery company Colis Prive it didn't already own, which puts it in direct competition with FedEx and UPS in that country. Many believe Amazon will use this acquisition to better understand the parcel delivery business - and look for opportunities to innovate well beyond France.

It's worth noting that in its 10-K filing with the Securities and Exchange Commission in 2014, UPS noted the risk of having one of its largest customers "develop their own shipping and distribution capabilities," saying such a development, among others, "could materially impact the growth in our business and the ability to meet our current and long-term financial forecasts."

On top of all that now comes the new Bloomberg report, which says Amazon has plans a lot more ambitious than competing regionally with FedEx and UPS.

"A 2013 report to Amazon's senior management team proposed an aggressive global expansion of the company's Fulfillment by Amazon service, which provides storage, packing and shipping for independent merchants selling products on the company's website," Bloomberg reported. "The report envisioned a global delivery network that controls the flow of goods from factories in China and India to customer doorsteps in Atlanta, New York and London."

The project's name: Dragon Boat - and it is proceeding apace.

The end result will be the launch of a new venture called "Global Supply Chain by Amazon" as soon as this year, Bloomberg adds. As part of that strategy, Amazon plans to take on freight forwarding and brokerage services directly, eliminating a set of middlemen.

"Amazon wants to bypass these brokers, amassing inventory from thousands of merchants around the world and then buying space on trucks, planes and ships at reduced rates," Bloomberg adds. "Merchants will be able to book cargo space on-line or via mobile devices, creating what Amazon described as a 'one click-ship for seamless international trade and shipping.'"

A key part of the plan, it seems clear, is to use technology to automate the often cumbersome global logistics process. Is that possible in the short term? Maybe. More on that in a second.

The goal is to move sellers from booking freight moves with DHL, UPS or FedEx to instead work directly with Amazon, the 2013 plan said. "The ease and transparency of this disintermediation will be revolutionary and sellers will flock to FBA given the competitive pricing."

Amazon will partner with third-party carriers to build the global enterprise and then gradually squeeze them out once the business reaches sufficient volume and Amazon learns enough to run it on its own, Bloomberg reports the documents said. Wow.

To this end, Amazon received a license to act as a wholesaler for ocean container shipping from the US Federal Maritime Commission on Nov. 13. Meanwhile, the Chinese Ministry of Commerce granted a similar license on Sept. 17, under the name Beijing Century Joyo Courier Service Company Limited, one of the trade names for Amazon China and Amazon Global Logistics China, according to documents posted on the Ministry of Commerce website.

A huge assumption of this new Amazon business is that the growth in cross border eCommerce volumes will grow substantially - but that has indeed been the case recently.

Global Supply Chain by Amazon plans to attract merchants in countries such as China and many others and then consolidate that export merchandise at regional shipping hubs. The large volume of goods that could be amassed means Amazon would be able to buy cargo space at lower wholesale rates and then offer a lower price to these merchants by passing on some of the savings.

What's more, "By automating the shipping paperwork, Amazon can further reduce costs and make the process more convenient for merchants," Bloomberg says.

With a few finger taps on their smartphones, merchants in China will summon Amazon trucks to pick up products from their factories and warehouses, the documents said. Once the shipments reach their destination ports, they will be plugged directly into Amazon's distribution networks for speedy home delivery.

Will it work? Though of course there will be challenges, I don't immediately see why not. Amazon has been able to reduce eCommerce friction in domestic markets around the world. While doing this cross-border may be a harder nut to crack - and freight forwarders won't see their business slip away without a fight - if Amazon can offer a better mouse trap, the world might just beat a path to its door.

To accomplish this, a natural acquisition for the company would be a Global Trade Management vendor to gain direct capabilities for import/export process automation, managing regulatory compliance, and more. The cost for such an acquisition would be chump change compared to what Amazon would spend overall on this program.

A few months ago, the Wall Street analysts at Baird presciently recommended that Amazon should build a global 3PL business, noting that "We believe Amazon may be the only company with the fulfillment/distribution density and scale to compete effectively with global [logistics] providers, and with an investor base that is historically tolerant of large-scale investment and low margin revenues," Baird wrote. (See graphic below.)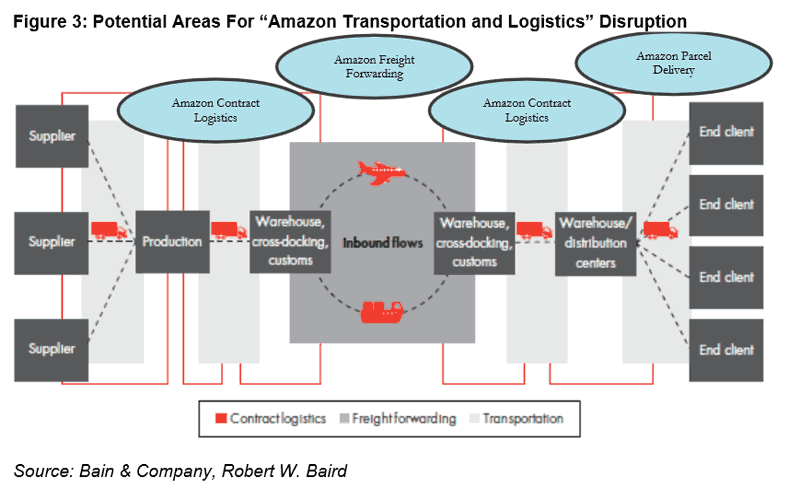 If all this is correct, it may be the most ambitious logistics strategy in history. What else could compare? Fred Smith's hub and spoke idea that became FedEx? Malcom McLean's invention of the ocean shipping container and ships to support those container movements?

I guess we will have to see how it plays out to make a final judgement on where this strategy stands, but Amazon's move would certainly be in the conversation.

"May you live in interesting times," the expression goes. We are doing that with Amazon and logistics in spades.