China's Exports Decline as Trade Surplus Swells to Record

'
Exports drop 11.2%, imports fall 18.8%, leaving record surplus

Yuan strengthens, stocks slide upon reopening from holiday
A slide in China's exports in January was eclipsed by an even bigger tumble in imports, leaving a record trade surplus for the world's biggest trading nation.
Overseas shipments declined 11.2 percent in January in U.S. dollar terms from a year earlier, the customs administration said on Monday, compared with a 1.4 percent drop in December. Imports extended a stretch of declines to 15 months, tumbling 18.8 percent, leaving a record trade surplus of $63.3 billion.
The slide in exports suggests the yuan's depreciation since August has yet to result in a sustained boost to the competitiveness of China's factories. While the decline in shipments to and from most major destinations raises concern of a lingering trade slowdown, the readings may also be influenced by the timing of China's week-long Lunar New Year holiday and volatility in trade flows with Hong Kong.
"Taken at face value these numbers are a negative sign for the Chinese economy," said Shane Oliver, head of investment strategy at fund manager AMP Capital Investors Ltd. in Sydney. "But Chinese economic data is traditionally very volatile around January reflecting the floating timing of the Chinese new year and they may also reflect a correction to possible over-invoicing and disguised capital outflows that could have boosted the December data."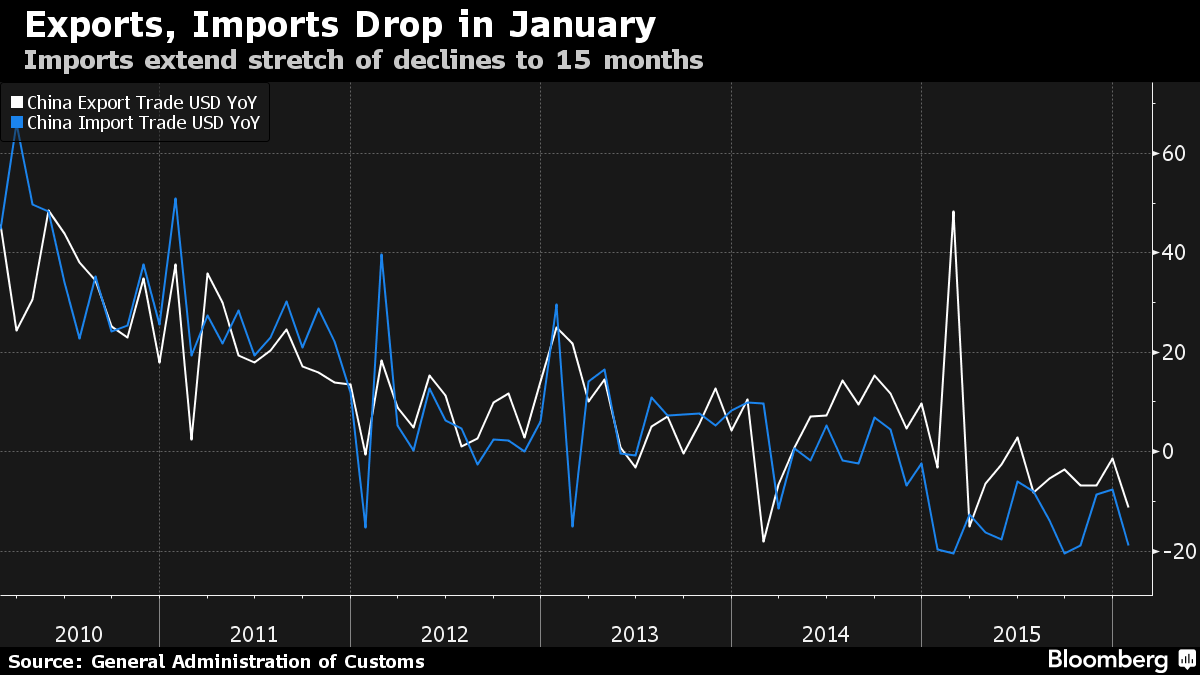 China's yuan surged by the most in more than a decade, catching up with dollar declines during a week-long holiday, after the central bank chief voiced support for the currency and set its fixing at a one-month high.
The slide in exports underscores the fragility of global demand and signal that policy makers may accelerate fiscal and monetary easing, according to Fielding Chen, an economist at Bloomberg Intelligence in Hong Kong. The People's Bank of China has held the main rate at a record low since October.
"Weak exports pose a further downside risk to the weak economy, suggesting the government may need to step in more quickly with policy support to shore up domestic demand," Chen wrote in a report Monday. "In particular, policy makers may want to amp up fiscal stimulus as soon as possible in order to bolster investment and consumption."
Mixed Signals
China's economy continues to give mixed signals. While areas like consumption and services show signs of holding up, the manufacturing sector remains in the doldrums.
Retail sales over the Spring Festival holiday rose 11.2 percent from the same vacation period a year earlier, with cinemas posting sharp increases in box-office sales, the country's Ministry of Commerce
said
in a statement Saturday.
A fuller reading on how China's economy has started 2016 won't be available until next month, when fresh readings on retail sales, investment and industrial output are due.
"This shows that if China wants to deliver a 6.5 to 7 percent growth target this year they have to rely on domestic demand," said Larry Hu, head of China Economics at Macquarie Securities Ltd. in Hong Kong. "Exports are likely to grow zero percent this year and property investment by zero to 5 percent. They need to come out with a bigger infrastructure package to invest."