China Steps Up Yuan Rhetoric as Currency Falls to Six-Year Low
Volatility gauge most muted in year as officials show support

Previous verbal intervention attempts achieved limited success
Chinese officials and state-run media stepped up efforts to curb yuan depreciation concerns, talking up the currency as it traded near the weakest level in six years.
The exchange rate isn't likely to drop much more because a rally in the dollar is close to an end, according to a report Thursday in the Financial News, a central bank publication. The article follows comments from People's Bank of China Deputy Governor Yi Gang that the nation will keep the exchange rate stable and that there's no basis for persistent declines. Ma Jun, chief economist at the PBOC's research bureau, added his voice to the defense, saying that the yuan's depreciation in October has been driven mainly by the greenback's advance.
"China is sending a signal that they are watching the yuan level closely and they want to make investors more cautious in building positions betting against the currency," said Ken Cheung, a foreign-exchange strategist at Mizuho Bank Ltd. in Hong Kong. "The impact of the rhetoric will be limited as they just repeat previous comments, and the yuan was driven by dollar strength. Such comments won't reverse the greenback's move."
A gauge of the dollar's strength has climbed 2.1 percent since the end of September as investors speculate that the U.S. Federal Reserve is readying an interest-rate increase. The speed of the yuan's recent tumble will slow, and policy makers will step in to squeeze out speculators if bearish bets increase, according to a Bloomberg survey of 21 foreign-exchange traders and analysts this month, with the median forecast seeing the yuan declining to 6.8 per dollar by year-end.
Previous rounds of verbal intervention have preceded an escalation of meddling in the currency market. In January, the PBOC was suspected of starving the offshore market of yuan soon after a central-bank arm said there was no basis for depreciation. Still, officials have also proven themselves capable of surprises. On Aug. 13 last year, the PBOC cut its fixing by 1.1 percent a day after saying there's no reason for a persistent drop.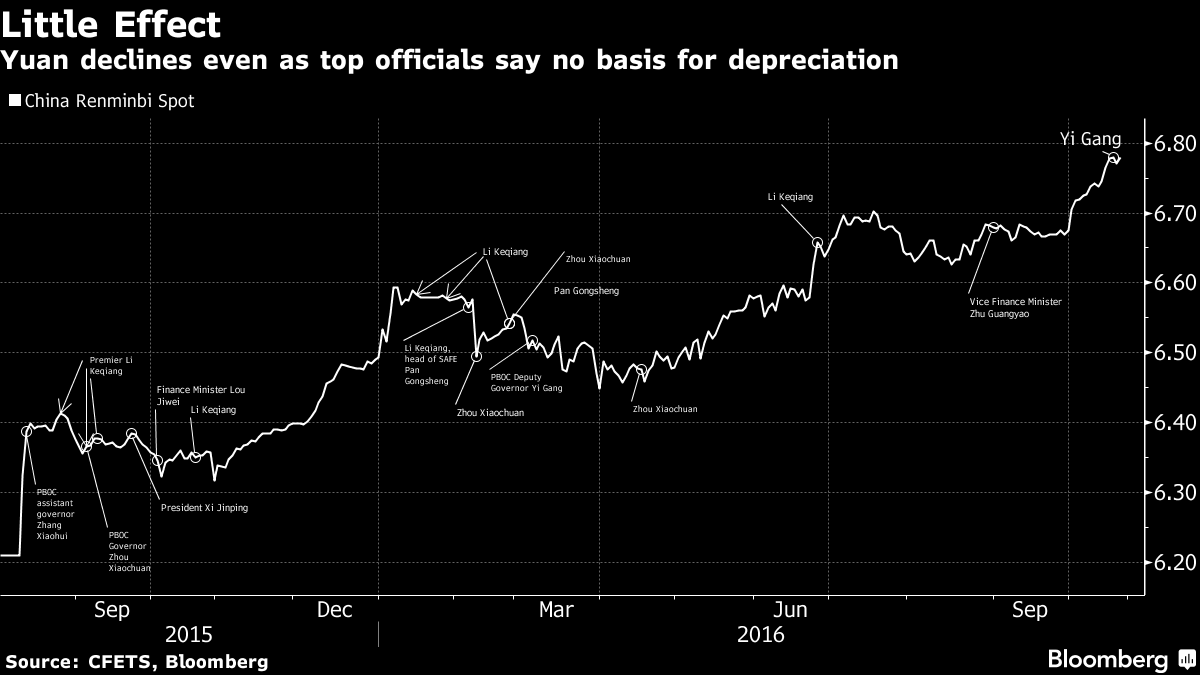 The Chinese currency's one-month implied volatility, which is used to price options, dropped 13 basis points to 3.61 percent as of 4:40 p.m. in Hong Kong. That's the lowest since August last year. The currency traded in Shanghai's spot market fell 0.1 percent to 6.7789 a dollar, taking its decline for the year to 4.2 percent. The offshore rate was trading near the weakest level in data going back to August 2010.
"The PBOC wants investors to know there's no point to panic and if volatility surges, it will take measures to stabilize sentiment," said Gao Qi, a Singapore-based foreign-exchange strategist at Scotiabank. "The comments and a more transparent fixing have helped push volatility lower."
The case for limited depreciation in the yuan has been buttressed by its Oct. 1 entry into the International Monetary Fund's Special Drawing Rights, which is expected to draw capital inflows. The Chinese currency's share of global payments surged to 2.03 percent in September, the highest since January, according to data from the Society for Worldwide Interbank Financial Telecommunication. The increase is partly due to China's capital controls limiting companies' ability to raise yuan, which resulted in more yuan transactions, said Zhou Hao, an economist at Commerzbank AG in Singapore.
Retaining Control
While China has eased access to onshore bond markets and scrapped the need for quotas for an inbound investment program, it retains control of the currency mainly through a daily central bank reference rate that limits moves to 2 percent on either side. It has also been suspected of intervening in the market to slow declines, the most recent bout being in the weeks before a Group of 20 meeting in September and ahead of the SDR entry. While a weaker yuan will help efforts to boost exports, any speedy increase in volatility risks spurring capital outflows.
"The strategy of buying short yuan options blindly will fail, because expectations for a one-time devaluation are receding and the volatility won't surge any time soon," said Frank Zhang, Shanghai-based head of foreign-exchange trading at China Merchants Bank. "There's no basis for the market to panic as the PBOC has built credibility for itself -- investors trust the fixing mechanism and China's capability to keep the yuan stable."