From Journal of Commerce--
SeaIntel: Panama must revamp tolls to stay competitive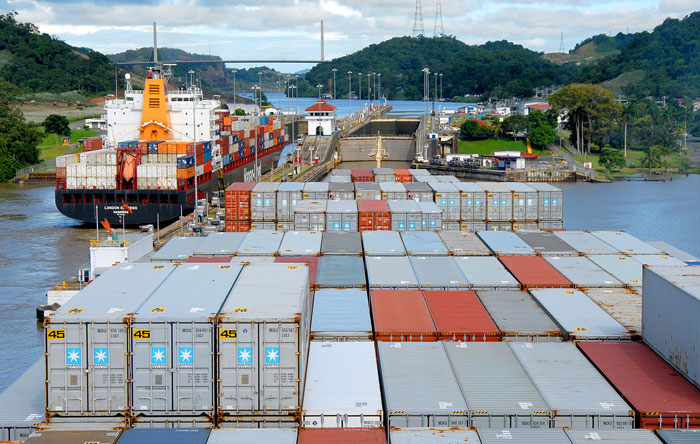 If the Panama Canal hopes to retain container carrier services from South China and Southeast Asia to the U.S. East Coast and regain those it has lost to the Suez Canal over the last few years, it will have to develop a new pricing structure or lower its tolls after it opens its new locks to commercial traffic in 2016, according to a new report from SeaIntel Maritime Analysis.
SeaIntel based its conclusions on a comparative analysis of the costs of shipping a 20-foot-equivalent container from various ports in China and Southeast Asia to Houston and East Coast ports. The analysis shows that the Suez Canal is currently cheaper than for almost all routes and vessel sizes because carriers can use larger and more fuel-efficient ships. When Panama opens its new locks, which can handle vessels of up to 13,000 TEUs, it will be significantly cheaper to use the Panama routing from Shanghai in North China to East Coast ports than sail through the Suez Canal, even though the Suez Canal fees are lower.
However, the analysis shows the Suez Canal will retain its cost advantage for the route from Yantian near Hong Kong in South China to New York, and its cost advantage only becomes greater as the vessel size increases.
"If the Panama Canal wishes to remain competitive for South China to USEC cargo, they may need to be creative in their pricing structure," SeaIntel said. It suggested that one possible
strategy would be for the Panama Canal to consider offering "targeted discounts" for services calling at South China ports.
The Panama Canal has said repeatedly that it intends to remain competitive in its pricing compared to other routes, including the Suez Canal and mini-landbridge intermodal services to the East Coast. "We have an all-water route that is less expensive than the landbridge, and, with the price of oil going up, we become even more favorable," Panama Canal Administrator Jorge Quijano said in an
interview
with JOC.com earlier this summer.
"We will always have competitive prices, and we know that once we open the new locks, we will have economies of scale that will enhance our competitive advantage," Quijano said. "We will draw back most, if not all, the cargo we have lost to Suez."
The canal authority is preparing proposals for a new round of toll increases scheduled for 2015. "We are trying to have a toll structure that will favor the return of what we lost to Suez and also other segments that we are focusing on," Quijano said in an interview with
reporters earlier this year. At the time, he said the authority hoped to reveal the proposals as early as February, but a dispute over cost overruns with the contracting consortium that is building the new locks has evidently delayed the release of the new toll structure.
Quijano said that even with future toll increases, the cost of shipping Asia cargo to the U.S. East Coast will continue to be cheaper than intermodal transportation through West Coast ports or the Suez Canal route.
When the Panama Canal Authority implemented its last round of toll increases in 2012, it raised tolls on almost all vessel segments except container ships, which had become a mainstay of the canal's revenues over the last decade.
Even though the Suez route from South China and Southeast Asia to the East Coast currently provides significant cost advantages to carriers over the Panama route, Panama has
nevertheless retained 12 of the current 20 Asia-USEC services, while the remaining eight use the Suez Canal. SeaIntel termed this as "rather surprising" and attributed this to the fact that many shippers prefer the Panama route because it a shorter transit time. "They are willing to pay a premium for this, and therefore the routing through Panama is preferable."
Another reason why Panama may have retained so many of its current services despite higher slot costs is that many carriers use the Asia-USEC services to deliver cargo to the Caribbean, Central America and South America's west coast by making transshipment calls in Panama, Jamaica or Mexico. Six of the 12 services using the Panama route call at these locations on their way to the East Coast.