FYI. Is using stores as warehouses for shipping orders really an effective way to deliver orders? Or is it just cutting corners and costs and not a strong way to handle the supply chain--that will create service and other problems? How accurate will inventories be with this dual use of the stores? How good are systems to do retail and e-commerce orders in stores? What do you think? Is this a good way to do it or a "disaster" in the making?
Barnes & Noble teams with Google for same-day delivery
August 7, 2014: 11:42 AM ET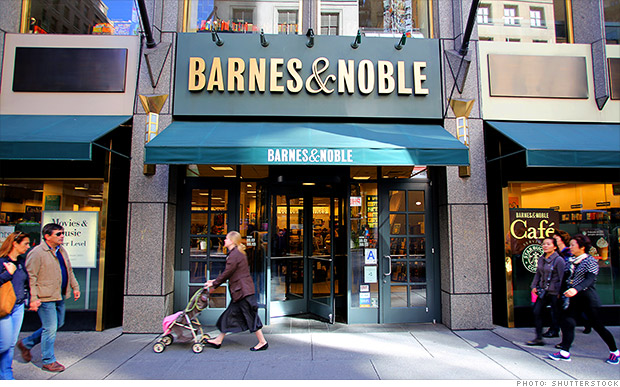 NEW YORK (CNNMoney)
Couriers are a common sight in the teeming streets of Manhattan, but they don't normally hustle books.
That changes today. Barnes & Noble has teamed up with Google to compete with
Amazon
(AMZN, Tech30)
on same-day delivery.
Now customers can have Barnes & Noble books delivered via Google Shopping Express in three metropolitan areas: Manhattan, west Los Angeles and the San Francisco peninsula.
In a sense,
Barnes & Noble
(BKS)
will turn its book stores, including its sprawling flagship shop in Manhattan's Union Square, into warehouses as well as brick-and-mortar retail spaces.
"The way the program is set up, they're using our local stores as the hub for this," said Jaime Carey, chief merchandising officer for Barnes & Noble.
He said there are Google employees in the Barnes & Noble stores who pull the books from the shelves when the orders come in and pass them off to Google couriers who deliver them to the customers.
Barnes & Noble shares jumped nearly 4% on the news.
Google
(GOOG)
did not immediately respond to CNNMoney's request for comment.
Customers can tap into three different daily delivery windows, from 9 a.m. to 1 p.m., from 1 p.m. to 5 p.m., and from 6 p.m. to 10 p.m.
Barnes & Noble already offers its own same-day delivery in Manhattan, but this will be the first time the service is offered in Los Angeles and San Francisco. He said that even where same-delivery service was already available, the partnership with Google allows Barnes & Noble to expand into a new pool of customer online.
"For us, it's fantastic that we can bring new customers to those local stores," he said.
Google Shopping Express already has partnerships with
Target
(TGT)
,
Walgreens
(WAG)
,
Costco
(COST)
,
Staples
(SPLS)
, Toys 'R' Us (and Babies 'R' Us,) L'Occitane and Fairway Market.
The book industry has been struggling for a long time. But Barnes & Noble, the last big bookstore chain, has shown signs of a turnaround this year, with growing sales.